Poultry >> Drinking Systems >> Nipple Drinkers
Stainless steel nipple item 4001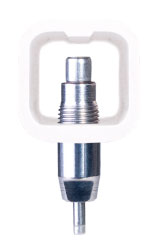 Flow Rate:
Stainless steel nipple made of high quality stainless steel with R 1/8 " thread. The standard nipple for caged laying hens, proven millions of times, made entirely of stainless steel. The drinking nipple opens when operated vertically.
Stainless steel nipple reduced item 4071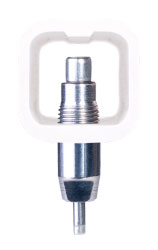 Flow rate:
Side action: –
Upwards: 40-50 cm³/min
The stainless steel nipple item 4071 compared to item 4001 does not require a drip cup or V-trough.
The LUBING quality is additionally guaranteed through the use of high-quality stainless steel. Modern manufacturing techniques have continued to improve the LUBING Drinking Nipples proven advantages in function and lifespan:
Feather-light opening
Minimum wear and tear
Sturdy but precise design
Its extremely lightweight operation provides the LUBING Stainless Steel Nipple with a reliable and hygienic water supply. In order to minimize splashing, the drinking nipple's flow rate without a drip cup, compared to the drinking nipples with a drip cup, has been reduced.
This means that the maximum number of birds per nipple is lower.
* In hot climates, and depending on the light/water program implemented, the number of animals per nipple must be reduced! Observe national/regional regulations.