Poultry >> Drinking Systems
Floor watering system for broilers
The central element of the Floor-watering system is the TOP-Nipple or TOP-Combinipple, ensuring an optimum water flow for every animal age.
The combination of nipple and Drip cup ensures a dry manure. The right height depends on the size of the animals: They should have to stretch slightly to reach the nipples. Every delivered system includes a height-table, making it easy to find the right height of the drinking line from the first day on.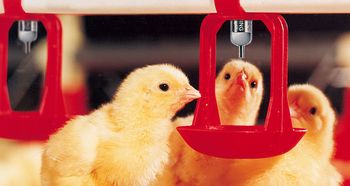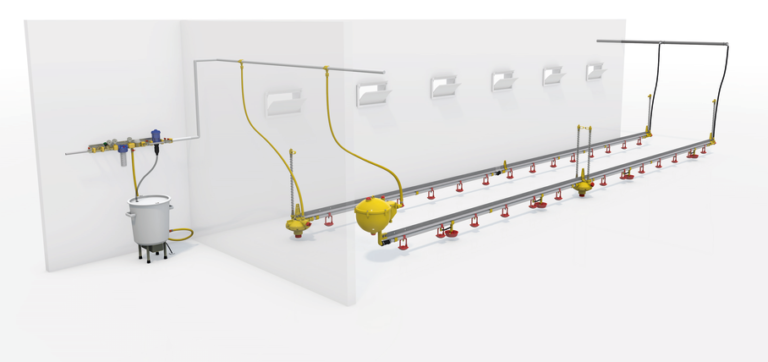 The LUBING Floor-watering system for broilers consists of the following elements:
Water supply
Drinking elements
Breather unit
Suspension
The Main water supply secures an optimum water quality for a long service life of the nipple drinkers. The water should have the quality of drinking water. At any case the water must be filtered.
The water runs from the Main water supply through the Pressure regulator or the Ball tank with integrated flush system into the drinking lines. Both versions are available for front or middle- installations.
The drinking lines are supplied in assembled elements of 3 m length. These elements are to be coupled to the length of the house.
At the end of each drinking line a flush breather unit is installed. All valves of the breather units close during the flushing, which could be started by hand or alternatively by the automatic flush system.
The drinking lines are suspended by hangers, which are stuck on the aluminium profiles every 3 m. These hangers are connected via ceiling pulleys with the central hoisting cable. The drinking line can be adjusted to the desired height by Hand winch or Ceiling winch and can be winched up easily to the ceiling for emptying or cleaning.
LUBING Utility film for Floor-watering