Pigs >> Drinking Systems  >> Water Supply
The advantages of E-Dos:
Precise dosage during the desired period
Adjustable dosing relationship from 0,01 (in dependence of the flow rate)
Measurement and dosage with highest accuracy
All assigned parameters are constantly controlled
Very easy to handle
Additional information: included water counter, works like a water meter including a daily counter indicates the water consumption/day
High consistent against many acids
Long-living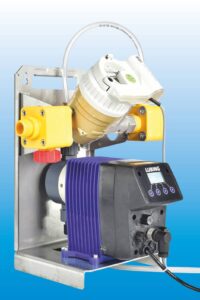 The Mechanical Medicator from LUBING
The medicator works without power and is integrated into the Main water supply. The water pressure acts as driving force. The medicator sucks the concentrate (medicine, vitamins, etc.) from the mixer, measures the required dose percentage and mixes it with the incoming water in the mixing box.
This mixture will be fed into the drinking system. The dosage is always constant and proportional to the water quantity even with possible pressure and water flow fluctuations.
The Main water supply is available in different versions for 3/4''- and 11/4''-connections  and with different medicators. Please ask for more information.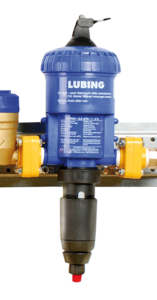 This new doser works with a hydraulic membrane motor and thus enables operations from 4.5 L/h and a pressure of 0.15 bar (2 PSI).
The main water supply is available in different variations from 3/4 inch to 1 1/4 inch attachments with different dosages.