The use of plastic pads in pad climate systems has proven its durability and efficiency compared to paper pads.
The advantages of our patented plastic pads are:
Easy to clean thanks to the use of welded, highly resistant polymer plates
Best stability and long lifetime
Lowest pressure loss – significantly reduced energy consumption
High UV resistance for years
Impervious to light
Chemical resistance
Excellent cooling performance due to special arrangement of solid surfaces and grid structures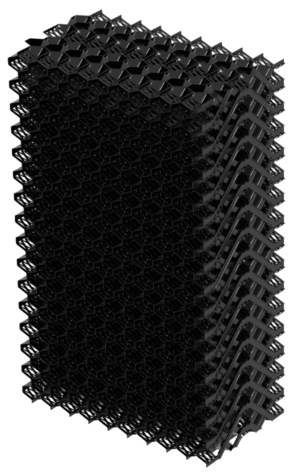 The LUBING Pad-Climate-System is made entirely of plastic. 
The LUBING evaporative cooling pad system is used in systems where highly efficient cooling is required. It can be used for many different cooling purposes but is particularly suitable for evaporative cooling in poultry houses.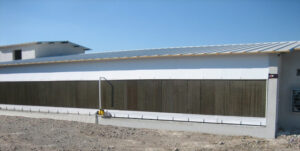 The evaporative cooling technology
Water is circulated through the system by a pump station and supplied to the top of the cooling pad via a water distribution pipe and the deflector. The water flows down the corrugated surface of the evaporative cooling pad. 
Part of the water is evaporated by the warm and dry air that passes through the pad. The rest of the water assists in washing the pad, and is drained back to the pump station through a watergutter system. The heat that is needed for the evaporation is taken from the air itself. The air that leaves the pad is therefore cooled and humidified simultaneously without any external energy supply for the evaporation process: An entirely natural cooling process is nature's own cooling process.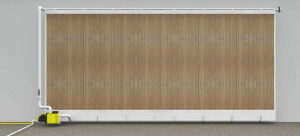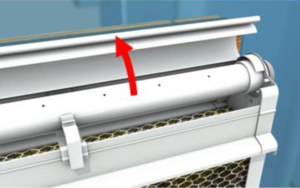 Access to the spray tube is now much easier with the new designed deflector. The deflector, which was previously plugged in, had to be completely removed to reach the spray tube. The new deflector can now be folded up in the modified holders, allowing quick access to the spray pipe for inspection or cleaning. All technical data remain unchanged. All orders from 01.06.2020 onwards will be delivered with this new deflector system.
Splash guard profile for Pad-Climate-Systems
The newly developed splash guard profile can easily be attached to the existing pad climate system.
This reduces possible splash water, especially important for applications of the Pad-Climate-System indoors.