Poultry >> Climate Systems 
Cooling, Humidifying, Dust binding with 70 bar (1000 psi) water pressure
The LUBING Top-Climate-System was developed for effective humidifying, cooling and dust binding of the house air. It works according to the principle of the direct evaporative cooling.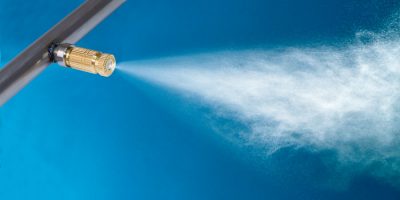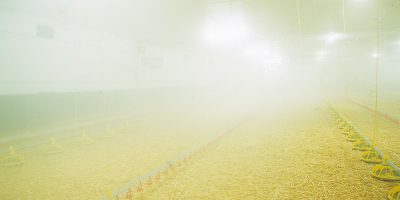 Through high pressure nozzles water is injected into the house air with a pressure of 70 bar as fog. The fog evaporates immediately and causes the cooling of the house air by extracting heat. This cooling effect saves energy because the ventilation rate can be throttled.
During heating periods and after the arrival of young animals the LUBING Top-Climate-System is used for the rise of the humidity to optimum value. The world-wide approved LUBING Top-Climate-System operates successfully with any kind of ventilation system. Even in open houses with only low compulsory ventilation, a considerable improvement of the house climate is achieved. The LUBING Top-Climate-System contributes substantially to the animals' health and activities with laying hens as well as fattening poultry and rearing. So the medicine application may be reduced.