Pigs >> Drinking Systems >> Nipple Drinkers
Nipple drinkers for pigs and piglets
with the stainless steel nipples
The LUBING nipple drinkers and sprayers guarantee fresh drinking water. The robust design provides high working reliability with low maintenance. The nipples and sprayers are made of high quality stainless steel.
Nipples and sprayers are connected directly to the water pressure pipe (max. 4 bar). For all nipples the throttle disks can be used to adapt the flow rates to the individually need. By adjustment of the flow rate and the construction of the nipples, the water waste is reduced to a minimum.
NEW! Stainless steel nipples 6006-2 / 6026-2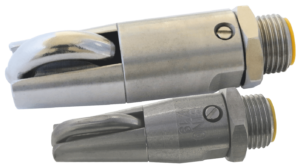 The robust design of the nipples ensures high operational safety with minimum maintenance. The high-quality materials used ensure very good acid resistance and the precise manufacturing ensures a long service life of the nipples. The nipples are connected directly to the water pipe (max. 6 bar). The flow rate can be regulated from the outside with an adjusting screw. Due to computer-controlled production, theese is always in alignment with the actuating lever. This ensures that access to the adjusting screw is always from above.
Art. 6110-5/6111-5/6112-5/6115-5 and 6113-5 Stainless steel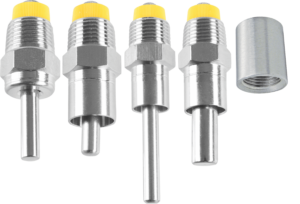 The LUBING nipple for bowl drinker art. 6110-5. Trough nipple for pigs art. 6111-5/6115-5 and for piglets 6112-5. With the socket art. 6113-5 the nipples can be fastened also to pipes with external thread. The flow rate can be adapted with throttle disks.
Some other products you might be interested in
Medication accurately mixed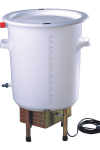 Cooling, Humidifying,
Dust binding with 70 bar (1000 psi) pressure