Poultry >> Drinking Systems >> Nipple Drinkers
Hygiene has a new name: CombiMaster
The high-quality materials ensure high durability and therefore for the highest possible functional safety
The casing only extends 4 mm into the nipple pipe. Cleaning the pipe is much easier
The extremely smooth inner surface and the plastic's excellent hygienic qualities prevent contaminating deposits
The larger casing makes it easier for the birds to see the nipple
The lower pin's increased diameter enables larger drops to form
The nipple is lightly secured by the lower pin and thus ensures an optimal water supply from the very first day
Accessories can be directly attached to the nipple
The hygiene-optimized design is very easy to clean
In the case of nipples with plastic housings with the additional code HR (High Resistant), we achieve a higher resistance to material damage of the housings by water additives (such as acids, sour cleaners or chlorine) with a plastic specially developed for this purpose.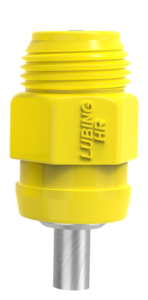 Item 4025-00 / 4050-00 / 4095-00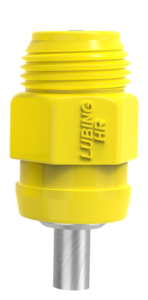 Item 4050-HR-00 / 4095-HR-00
The LUBING quality is additionally guaranteed through the use of high-quality stainless steel. Modern manufacturing techniques have continued to improve the LUBING Drinking Nipples proven advantages in function and lifespan:
Feather-light opening
Minimum wear and tear
Sturdy but precise design
Its extremely lightweight operation provides the LUBING Stainless Steel Nipple with a reliable and hygienic water supply. In order to minimize splashing, the drinking nipple's flow rate without a drip cup, compared to the drinking nipples with a drip cup, has been reduced.
This means that the maximum number of birds per nipple is lower.